The 6 modern semi-detached houses in Mainz-Marienborn, centrally located, educate Thanks to the proximity of the city center of Mainz, you have a high quality of living, whether city life or quick connections to the motorways. In the village itself, but also in the surrounding area - such as the Marienborn mountain away and around the Chauseehaus dominate agricultural influences Use. With these beautiful orchards in the immediate vicinity, there is a lot Space for running, Nordic walking, cycling or just relaxing the fresh air.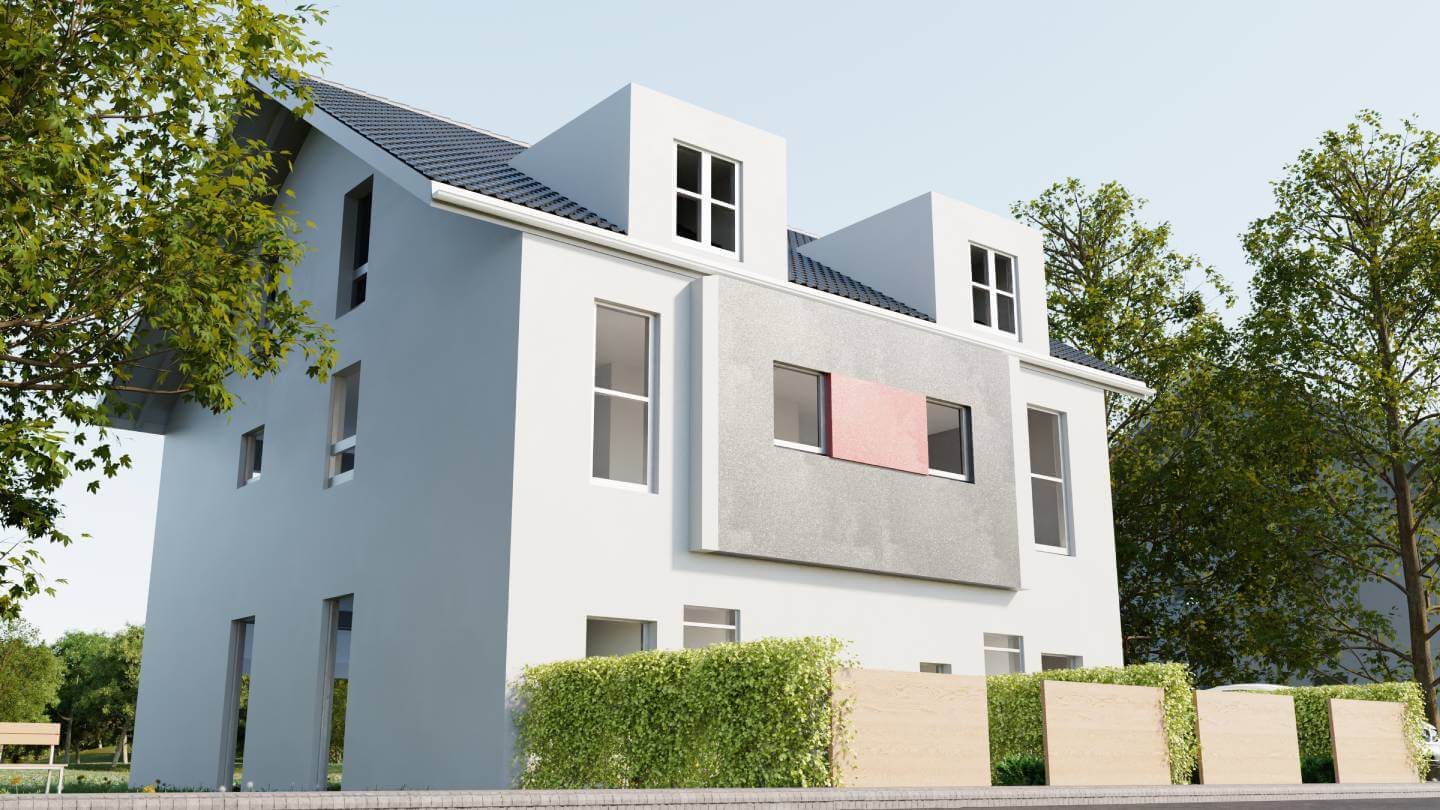 Total Area: 38.92 m2
Object no .: 0090
Gallery not found.
ARHITECTURE
An attractive outer facade with a protruding dormer combines to form one high quality and coherent overall picture. It can be done on 175 square meters of living space living like a dream. A structured basement level offers extra storage space opportunities. You step on the first floor in a beautiful bright hallway with a separate guest toilet. The large open living-dining area with an open kitchen offers plenty of space for everyday life. Over the beautiful open staircase pe, you get to the upper floor with two spacious bedrooms and a feel-good oasis with a large shower and bath. The converted attic, with the beautiful dormers, offers again two large, bright bedrooms. The spacious terrace with a garden invites you to relax clamp in. A parking space directly at the house rounds off the perfect quality of living.
FURNISHING
• Electrical work
• Bathrooms and guest toilets with high quality Ceramic branded products
• Windows triple double glazing
• Electric shutters
• Two – spar – stair support spars in steel construction including one-sided handrail
• Do wallpapering and painting
• Flooring
• Living room doors
• Paved access roads
• Parking space
• And many more individual ones Equipment options
LEGAL NOTICE
Since we do not determine property details ourselves, we do not assume any liability for this. This exposé is only intended for you personally. A transfer to third parties is bound by our express consent and does not prevent our Entitlement to the commission when a contract is concluded. All conversations are through our office. In the event of an infringement, we reserve the right to damage a sentence up to the amount of the commission claims. Prior sale is not excluded.
| | |
| --- | --- |
| KEY DATA | |
| Purchase price | 810,000 EUR |
| Living area / usable area: approx. | 175 m2 |
| Land area | 160-192 m2 |
| DETAILS | |
| Ref. | 0090 |
| Property type | House |
| Object type | semi-detached house |
| Type of use | Private |
| Purchase price | 810,000 EUR |
| Living area approx | 128.84 m2 |
| Usable area approx. | 45.44 m2 |
| Total area approx. | 174.28 m2 |
| Property size | 160-192 m2 |
| Pitches | 1 |
| Year of construction | 2021 |
| Condition | New building |
| Energy certificate | Yes |
| Optional garage | EUR 17,500 |
| Additional parking space | EUR 8,000 |
| Completion | August 2022 |
| BASEMENT FLOOR | |
| Basement | 18.56 m2 |
| Storage room | 9.46 m2 |
| Building technology room | 12.82 m2 |
| Corridor KG | 4.60 m2 |
| Total area | 45.44 m2 |
| GROUND FLOOR | |
| Living-dining | 32.70 m2 |
| Kitchen | 5.57 m2 |
| Corridor | 3.33 m2 |
| WC | 2.62 m2 |
| Total area | 44.22 m2 |
| UPPER FLOOR | |
| Sleeping | 19.71 m2 |
| Bathroom | 6.15 m2 |
| Hallway | 5.02 m2 |
| Child | 13.60 m2 |
| TOP FLOOR | |
| Children's room 1 | 20.56 m2 |
| Children's room 2 | 15.43 m2 |
| Hallway | 2.93 m2 |
| Total area | 38.92 m2 |